Family Details
Return to start page here
Generation Number Generation No 6
Family -Member
| | |
| --- | --- |
| | 15. ERNEST ALBERT JOHN6 PALMER (ALBERT EDWARD5, JOHN4, ELIZABETH 3 DAWES, ANN2, ROBERT1) was born 22 March 1899 in Stanton Drew, Som, Eng, and died 3 December 1973 in Portishead, Som, Eng. |
| | He married NELLIE FLORENCE LOUISE VAUGHEN 1926 in St Pauls, Coronation Road, Southville, daughter of HENRY VAUGHAN and KATE WOOD. She was born 16 April 1900, and died 1974. |
---
Census Details
Cenus
Location
Family
1901
Dwelling:
Census Place: Chew Magna, Som, Eng
Albert E PALMER M 30 M Trull, Gls, Eng Rel: Head Occ: Coal miner
Plenty PALMER M 22 F Stanton Drew, Som, Eng Rel: Wife
Ernest A PALMER S 2 M Stanton Drew, Som, Eng Rel: Son
Hester M PALMER S 2 F Stanton Drew, Som, Eng Rel: Daur
Victor C PALMER S 9m M Stanton Drew, Som, Eng Rel: Son
Mary PENNY Wid 69 F Chew Magna, Som, Eng Rel: Mother-in-law
William EMERY S 10 M Stanton Drew, Som, Eng Rel: Nephew
Cenus
Location
Family
1911
Dwelling:
Census District: Long Ashton
Albert Edward PALMER M 40
Plenty PALMER M 32 F
Ernest A PALMER S 12 M
Hester M PALMER S 12 F
Victor C PALMER S 10 M
Albert Henry PALMER S 8 M
William Cyril Francis PALMER S 5 M
More Photos & Notes
During World War One Ernest served with the 13th Devon Regiment. As a country worker he was familiar with horses, so he was assigned to work with the 'Remount Horses', five or six miles behind 'the front' during the war. When an officer at the front or a gun carriage lost a horse. Ernest had to bring one up to replace it, thus the name remounts. He saw action in a number of battles including the Somme. Ernest actually joined up under age because he added an extra year to his age to enable him to enlist. His Army record shows he was a private at General Service from 14th August 1916. He then moved to Army Reserve on 15th September 1916 before being mobilised on 23rd April 1917. He was posted on 13th December 1917, and then was transferred on 8th April 1917 before again being posted on 19th August 1917. He was discharged having suffered an accident when a machine crushed his left had in 1817. His army pension notes show that he had four fingers amputated. The injury happened in Bristol, not whilst he was on active military service. His medical report shows that he was stationed at Eggbuckland, Plymouth in in January 1918. He was discharged as no longer physically fit for war service on 18th February 1918.
Children

Child of ERNEST PALMER and NELLIE VAUGHEN is: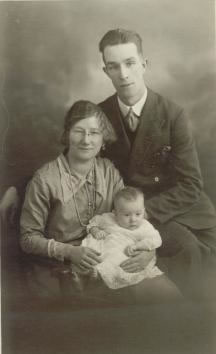 Ernest & Nell with son John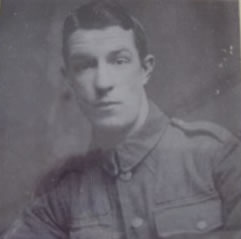 Ernest as soldier in World war one.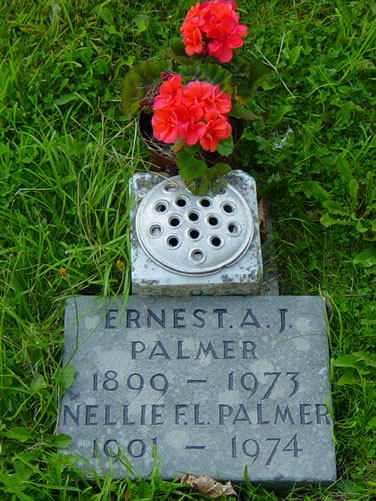 Ernest & Nell's grave in St Peters Churchyard Portishead.